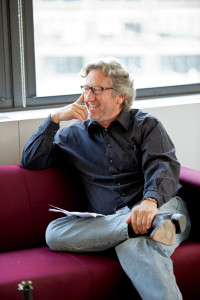 Emmy Award-winning writer John Markus began his career in high school, supplying jokes about his rural Ohio hometown to Broadway columnist Earl Wilson. After graduating from Stanford University he moved to Los Angeles where he landed a job writing a revival of the animated "Mighty Mouse." Accepted into Paramount's apprentice program, he was a staff writer on Working Stiffs, a short-lived sitcom starring Michael Keaton and Jim Belushi.
After an assignment on Paramount's Emmy-awarded Taxi, Markus joined the original writing staff of The Cosby Show, moving to New York where the show was produced. Promoted to Supervising Producer after the first six episodes, he returned for the show's second season as co-executive producer and show runner. He remained with the acclaimed series until 1991. During his tenure, he wrote or co-wrote 67 episodes, earning an Emmy, a Peabody back-to-back Humanitas prizes, and a People's Choice award for "The Greatest Sitcom of All Time."
He next co-created the Cosby spin-off A Different World, which ran for six seasons on NBC. Markus next co-created the critically-acclaimed Lateline with Al Franken for Paramount Network Television and NBC.
He was consulting producer on The Larry Sanders Show, co-writing the Emmy-nominated Ellen Degeneres episode, "Ellen: Is She Or Isn't She?" The play The Sons of Liberty, his first collaboration with Mark St. Germain, staged as a prototype for an NBC television series, was produced at the American Place Theater and directed by Jerry Zaks.
The Fabulous Lipitones, the story of a barbershop quartet that loses its lead singer to a strenuously high B-flat, debuted at Theatrical Outfit in Atlanta in Spring of 2013.  This play with music was co-authored with Mark St. Germain and, after a run at Goodspeed in Connecticut, and George Street Playhouse in New Jersey, now has had eight separate productions within two years.
Markus just directed "The Kings of BBQ Barbecue Kuwait", an award-winning documentary film chronicling the mission of attempting to serve authentic-style BBQ to our troops stationed in Kuwait.  He's currently executive producing the Destination America series, "BBQ Pitmasters", which takes the first in depth look at the world of competition barbecue.
Back in '99, Markus was served some bad ribs grilled by now-Senator Al Franken, which set him on a quest: what is true low-and-slow Southern-style BBQ, and how does one make it?
In the course of his culinary journey, he apprenticed under world champion Pitmasters Paul Kirk of Kansas City, aka The Baron of Barbecue, and Chris Lilly of Big Bob Gibson in Decatur, Alabama.  Markus' own competition team, Central Pork West, cooks regularly on the New England BBQ circuit and has garnered many awards in the categories of chicken, ribs, and brisket.
Just last year, The Kansas City Barbecue Society awarded him a PhB– an honorary status bestowed upon only a handful of Pitmasters.